In frame of current global events, the Grand Hotel Kempinski Riga, Latvia's first international luxury hotel, have launched a special room rate for all in the medical field to show appreciation for their tireless efforts of those on the front line fighting the COVID-19 pandemic.
"Whilst Latvia have seen relative low numbers of coronavirus in comparison with the rest of the world, we wanted to express our deepest thanks and gratitude to the global medical community for their unwavering commitment in tackling this pandemic. Guest who take advantage of this offer will experience pampering and service of the highest level, allowing those incredible professionals to recharge and revitalize before and again returning to their remarkable work. Combined with "Kempinski White Glove Service" ensuring the safety of the guests and staff, I look forward to welcoming all," explains Leon Baum, General Manager of Grand Hotel Kempinski Riga.
Medical staff will have opportunity to book rooms from 20 July 2020 until 30 December 2020 and choose to stay within the same time period for single or double occupancy, starting from 150 EUR per night in one of our elegant rooms, including glass of bubbles upon your arrival, lavish a la carte breakfast, complimentary access to wellness area Kempinski The Spa – including indoor swimming pool, saunas, fitness centre, relaxation area and 20 EUR Kempinski The Spa discount voucher on any treatment of your choice. Upon check-in medical ID card or certificate will be required to prove membership of Medical industry.
The new campaign will be available on Grand Hotel Kempinski Riga website as of 20 July 2020, and it will be bookable by using special PROMO code: HEROES
Within the framework of this project, a photo collaboration was made with the sculpture "Doctors for the World" created by the well-known Latvian sculptor Aigars Bikše. Sculpture can be seen since mid-June in the territory of the Latvian Art Museum, as a tribute to the medical community, thanks to their work during the COVID-19. "I saw the unifying mission and goal of the two projects and without delay agreed to the photo collaboration with Grand Hotel Kempinski Riga, especially considering the current situation, when it is necessary to support each other even more than usual. I will be grateful if doctors from all over the world will use this special offer and will find a time to explore beautiful Riga and its cultural heritage," explains the artist Aigars Bikše.
Discover a luxury city break in Riga which is one of the top 20th safest places for travel post-Coronavirus, according to global media publisher FORBES and experience a splendid stay at Grand Hotel Kempinski Riga, Latvia with an exclusive medical promotion available for the global medical staff.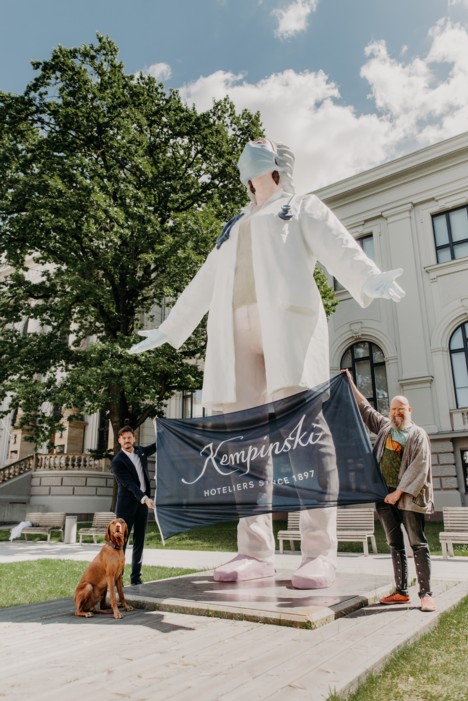 About Kempinski
Created in 1897, Kempinski Hotels is Europe's oldest luxury hotel group. Kempinski's rich heritage of impeccable personal service and superb hospitality is complemented by the exclusivity and individuality of its properties. Kempinski now comprises a portfolio of 77 five-star hotels and residences in 34 countries and continues to add new properties in Europe, the Middle East, Africa, Asia and the Americas. Each one reflects the strength and success of the Kempinski brand without losing sight of its heritage. The portfolio comprises historic landmark properties, award-winning urban lifestyle hotels, outstanding resorts and prestigious residences. Each one imbues the quality guests have come to expect from Kempinski while embracing the cultural traditions of its location. Kempinski is a founding member of the Global Hotel Alliance (GHA), the world's largest alliance of independent hotel brands. kempinski.com discoveryloyalty.com
About Grand Hotel Kempinski Riga
With the famous Latvian National Opera House by its side and the Old Town, a UNESCO World Heritage Site, at its feet, the hotel presents a whole new level of comfort and elegance to both city guests and locals. Grand Hotel Kempinski Riga features 141 first class rooms and suites, two gourmet restaurants and three bars, six spacious meeting rooms, including the Grand Ballroom, as well as a world-class spa and relaxation area. Wonderful panoramic views of the capital, sophisticated service and rich cultural experience await guests from all over the world.